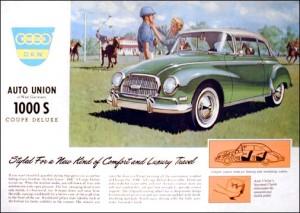 I don't know why we named this song DKW, but at the time me and my brother actually owned a DKW car. It used to belong to my grandfather, and for a long time we kept it, thinking that we should fix it up. But since I didn't get a driver's license (until I was 30) we eventually sold it to a collector. It was really good-looking, had a 2-stroke engine pumping out 38 hp, and three gears. Our grandfather (a retired fireman) used to drive us all across Småland in it, and I can still remember the smell of the oily gasoline, and the distinctive sound of the indicators. Unfortunately it lacked tiny details such as seat belts.
Anyhoo, I think this song started with the resonant pad sound (from the Juno 106) playing the E to C chords in the chorus. The verse is a bit bluesy, and the other 106 synth bass actually has som filter automation (programmed via sysex I think). The drums were sampled into the Roland S-330, and I think the kick drum came from hitting a sofa by hand. The voice doing the weather report on CNN was not sampled as much as recorded straight to tape.  The lead in the (instrumental) chorus is actually the same sound as in Nowadays (B24 Echo Pan from the Roland D-20) but with a more resonant filter setting.
As we already have mentioned many times, Art Fact often has a very minimalistic sound and production. Mostly this was only due to our incompetence, but in this case there was actually a plan to keep the track sparse. For once we didn't try to sound heavy and powerful, and I think the result is kind of nice. And luckily Måns  made the title a little less random by adding the final lines:
Follow me away / My car will take us there.
Someone made a video for this track as a school project, with some footage from a gig at a classic Stockholm venue called Tre Backar. In this version we had added the classic Funky Drummer loop, but sampled from Sinéad O'Connor's brilliant song I Am Stretched On Your Grave. This was before REX-loops and warp markers, and I remember that we had to offline-stretch the sample in percent to fit DKW's tempo, which was like mad science to us. The good old days were not that good actually!