I guess this song is somehow inspired by Depeche Mode's Blasphemous Rumours, at least when it comes to the mood. It started out with a loop of the metallic noises in the intro, and just grew from there. I think it's all made using the Roland D-20. By this time we knew this synth inside and out, using our favourite samples over and over again, but also pitching them a lot to make them sound fresh.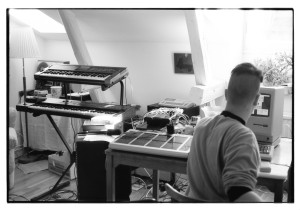 Songwriting-wise I think the best part is the middle-8, where Måns takes the melody up some steps to raise the intensity. It creates a nice turning point for the song.
This song messed up our CDs. The Nuclear Princess was our first demo mastered on DAT and burned on CD-R, a brand new technology at the time. Jonas' brother Johan worked as a sound engineer at a theatre where they had a CD-R burner. It worked at 1x speed and the discs cost $30 a piece! The track numbers were created automatically on the first sound detected after a few seconds of silence, which worked OK in most cases. But the silence after the first metallic sound on Separated Bodies was long enough to trigger a new track number. So on our CDs Separated Bodies were both track 7 and 8 :)
Recently Separated Bodies  was included on the Swedish Electro #2 compilation by Swedish Electro Scene. Check it out, 36 great songs for free!
Lyrics
From time to time we all need some
I could never do without
You know it
But still, all most the time
We've got separated bodies
Secretly I admire them
And their capability
To carry on
But you have to admit
It feels better though
We've got separated bodies
I have a fair chance to survive
Still knowing that time will pass
Until I see you again
But one day and forever
We won't have
Separated bodies