Here is at least something which sounds a lot more like a classic synth pop song on this cassette! We were working so hard to make ourselves sound "harder", but here we have a nice tune that we managed to squeak through anyway.
We've got an unidentified synth doing the bass line, it could be the trusty ole Juno-106, but it doesn't sound like it. The Juno is definitely there though in the pads. Also, the S-330 sampler is working hard again with both sound effects and drum patches.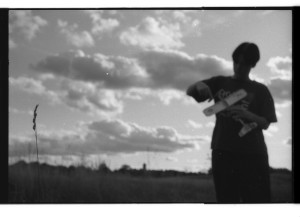 For once, we also made the second verse something else than a cut-and-paste of verse one, at least in the soundsphere. We've got a nice arpeggio which sounds like another Juno-106, adding some texture and movement to the song there.
The vocals are nothing to be happy about today, I sound totally crappy, and without emotion. This was definitely by design, but it was one of those choices we made back then that I wish I could go back and change. We wanted to be cool, but ended up taking away a lot of the "soul" in our music that had made Art Fact what was different.
Lyrics are forgettable as well. The "blocked by fear" line is ripped off from the Front 242 song "Gripped By Fear". Oh well.
/Måns