Ah yes, here we go. We're getting very close to the end of Art Fact's "career", and this song is probably our most well-known song, or at least it was before Rain in the South was featured on a Minimal Wave CD…
Building was the first song of ours that made it on to an official release, when we sent it in to a brand new label called Memento Materia. We were very excited when Building was selected to be on a compilation CD called Illuminative, which today is something of a classic in the Swedish synth scene. Later, when Memento Materia turned 20 years, the song was once again on a compilation of theirs, this time for a "best of" called  Get Electrofied, which again made us very proud.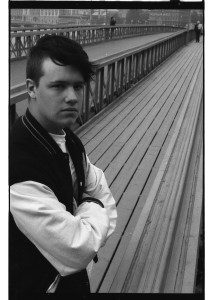 Building is a song built around two main things. First of all, the heavy timpani drum sound from the Roland D-20 which is prominent already in the intro, and then throughout the song. It really sounds great: a heavy, thundering boom to set the mood. Together with the thin metal beats it creates an almost industrial feel to the song, which probably made us name the song "Building" even though the lyrics have nothing to do with construction. :)
The other thing is the brilliant synth melody in the break. Anders wrote that, and if memory serves me right, this particular melody was initially written for DKW, but when Anders was trying to write a melody for Building, he thought that the one he came up with would be better in DKW, so they switched places. Today, it's hard to imagine the two melodies switched back.
I think Building is a pretty good song today, but it is suffering a bit from our heavy-handed approach. It's got a good melody, and an actual chorus, but the vocals are a bit sour and boring. When we reunited Art Fact last year to perform live for the first time in 20 years, Building was on the shortlist but didn't make it to the live show, much to the dismay of some fans.