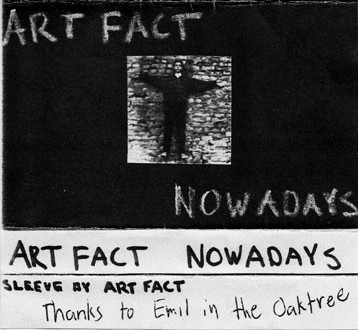 After last week's synth pop glory, we will take the opportunity to show that "Nowadays" certainly had its darker moments. The last track of side A on the cassette was "Stains", a song that was really about a homeless man in Stockholm we used to run into a lot. He was very dirty, very confused and probably really should have been in some sort of mental institution. He would say the most hilarious things when we were talking to him, but even though we had fun at his expense a lot, we still felt bad for the man, and was wondering where he was living. The story he was giving people was that he was living in a hollow oak, and so on the cover of "Nowadays" he is thanked as "Thanks to Emil in the oaktree".  The lyrics go through meeting this man, and asking questions about society's responsibility for him. Pretty heavy stuff for our regular teenage angst fare, but there it is.
Now to the song! This time around we're using our trusty Roland D-20 hooked up to our Yamaha V50 for a combined sound that is much wider than when using just the one machine. The awesome bass line that enters in the second verse is the V50, but the iconic metal clang loop is a pitched-down effect on the D20.
It's got a nice vocal melody, and a pretty interesting more or less random melody being played in the background, probably improvised and recorded in one go into the sequencer. For me, the great thing about this song is the very last part of the verse, or if it really is the bridge, where we hit that major chord, leading nicely into the chorus. The words in the chorus are stupid and all just thought of to rhyme with each other:
no guilt
no shame
no filth
no pain
no pill
no gain
no bill
no stains
Complete lyrics to Stains are posted here.