Here we go, this is track four from "Nowadays" and it's a special one. This is the one and only Art Fact-track where Måns is not the lead singer. This song was written and performed by Olle, and we thought it was great to leave his vocals on there after he had recorded them to show me how to do it. :)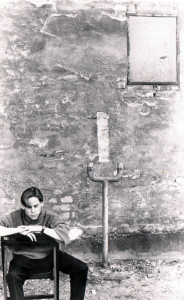 It's also a great song I think, with some cool samples! We were experimenting with a sampler that Olle bought for his Amiga computer, but we didn't have MIDI capabilities for it, so all the samples had to be triggered live-to-tape with the mouse. All the samples are from the 80's epic bad movie "Mac and me", simply because it happened to be on the TV when we were recording. During the chorus we used some servo motor sample sounds from the movie, and I think it works really well with the song.
Other than those samples, the song is 100% Roland D-20. The very typical gated kick makes another performance, and the bass line is also one of those digital sounds attempting to emulate analogue synthesizers. It sounds weird today, and probably would have been much better with an actual synthesizer instead, but we had to work with what we had at hand.