For once I have some actual memories from the making of a song! This one started out by me doing most of the music at home on the D-20, and then at some point playing it over the phone to Måns. Yes we used to sit with the receiver pressed up against a speaker and play the whole song through, effectively hogging 100% of our families telephone bandwidth. At least this part of teenage parenting has been improved since then.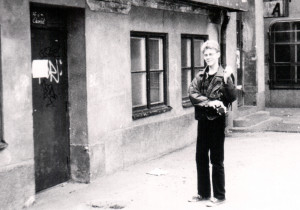 I think it was in the early summer of 1990 that we borrowed the student's lounge at Adolf Fredriks music school, also known as the Piano Bar, to record the bigger part of what was to become Nowadays, and this song was recorded there. Måns had come up with the vocal melody, and written the first verse. I remember him and me sitting and writing the second verse together (but maybe Jonas and Olle were there too). For me this was something new, I had never participated on writing the lyrics before (and didn't much later either). I wanted to write songs completely on my own, but didn't dare even trying to sing, and could never understand how you decided what the lyrics was going to be about. I had nothing to say, really.
One detail I remember is the line "And every time you are saying no / You'll have a longer way to go" which was a result of me identifying the spirit of what needed to be said to continue the logical flow of the preceding lines, and Måns, after thinking for a minute or so, coming up with the line, with rhyming and everything. A bit like julklappsrim! I remember the feeeling of success, but today the lyrics partly seem like the result of some Bowiesque cut-up technique?
The song is centered around a riff in E minor to F, using open fifths. I still think the riff is pretty good, but these harmonies are difficult to write melodies to (unless you are Björk of course). Maybe that's why the chorus is instrumental. The synth sound playing the riff is probably the closest we got to mimicking a classical analogue synth sound, before actually buying one. The D-20 was not a good synth to start learning about synthesis, since it is a confusing hybrid of a rompler and a digitally modelled analog synth. At this point we more and more ditched the sampled stuff and used only the synth part.
Another detail I remember is that I, after a lot of hard work tweaking the D-20, managed to come up with a percussive chipping sound similar to that in World In My Eyes by Depeche Mode. A complete ripoff!